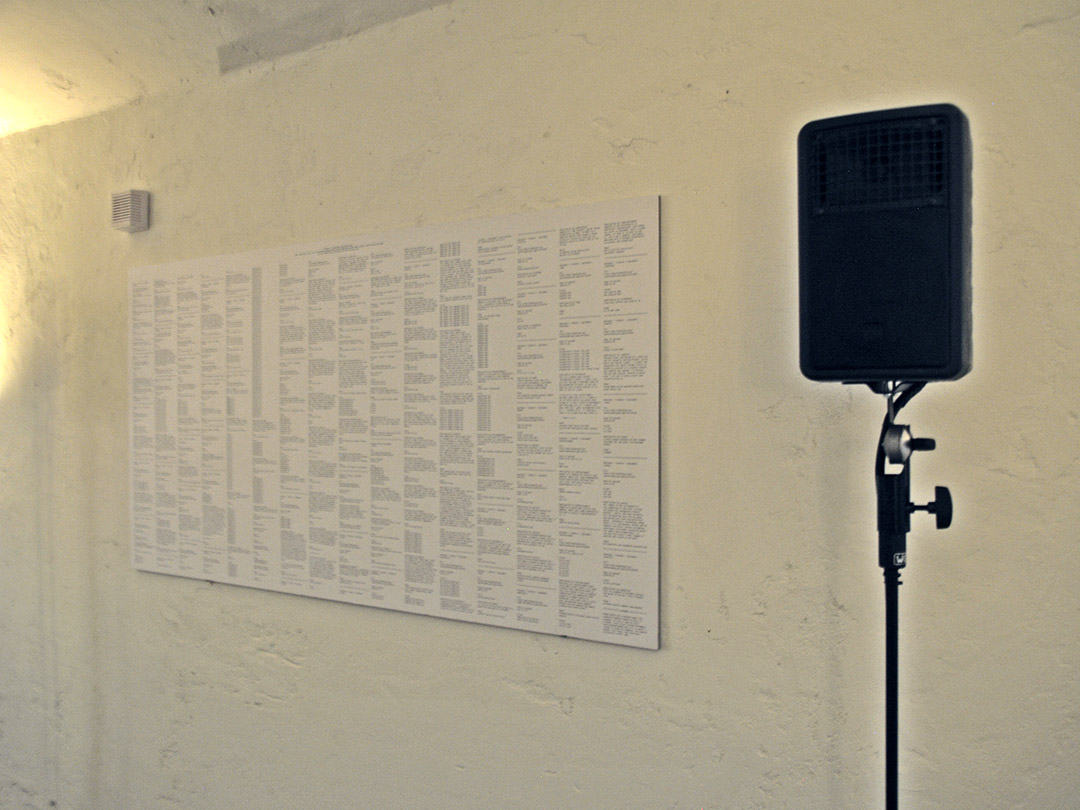 DOVE
Casa della Confraternita
Salita del Castello
ORARI DI APERTURA
16 – 24 giugno
da giovedì a domenica ore 15 – 19
INAUGURAZIONE
Sabato 16 giugno ore 11.45
TAO G. VRHOVEC SAMBOLEC
Tuning in Installazione sonora per 8 altoparlanti
I suoni utilizzati per questa installazione sono stati tutti scaricati da internet, e più precisamente dal sito freesound.org, un archivio open source alimentato da musicisti, sound designers, studenti di musica, e da chiunque abbia voglia di condividere materiale audio in rete. Tra tutti ho scelto quelli di strumenti musicali che suonano una singola nota, il LA (nota di riferimento internazionale per l'accordatura) e quelli con singoli colpi di percussione. Li ho utilizzati senza processarli o modificarli in alcun modo e li ho distribuiti su 8 altoparlanti come se fossero suonati da musicisti che cercano di accordarsi.
Nonostante siano stati prodotti o registrati da persone diverse e in luoghi differenti, distanti tra loro anche anni l'uno dall'altro, condividono il fatto di essere intenzionalmente suonati come singole note. La connessione tra essi, in questa esposizione casuale non è dunque quella di essere finalizzati ad una esecuzione d'insieme in un tempo e in un luogo ma dal tipo di gesto che rappresentano.
Commissionato dal festival di musica contemporanea Gaudeamus Music Week nel 2011 ed esposto per la prima volta nel foyer di una sala da concerto, questo lavoro si ispira a quel momento che precede immediatamente le esecuzioni d'orchestra in cui i musicisti riuniti si coordinano per accordare i propri strumenti.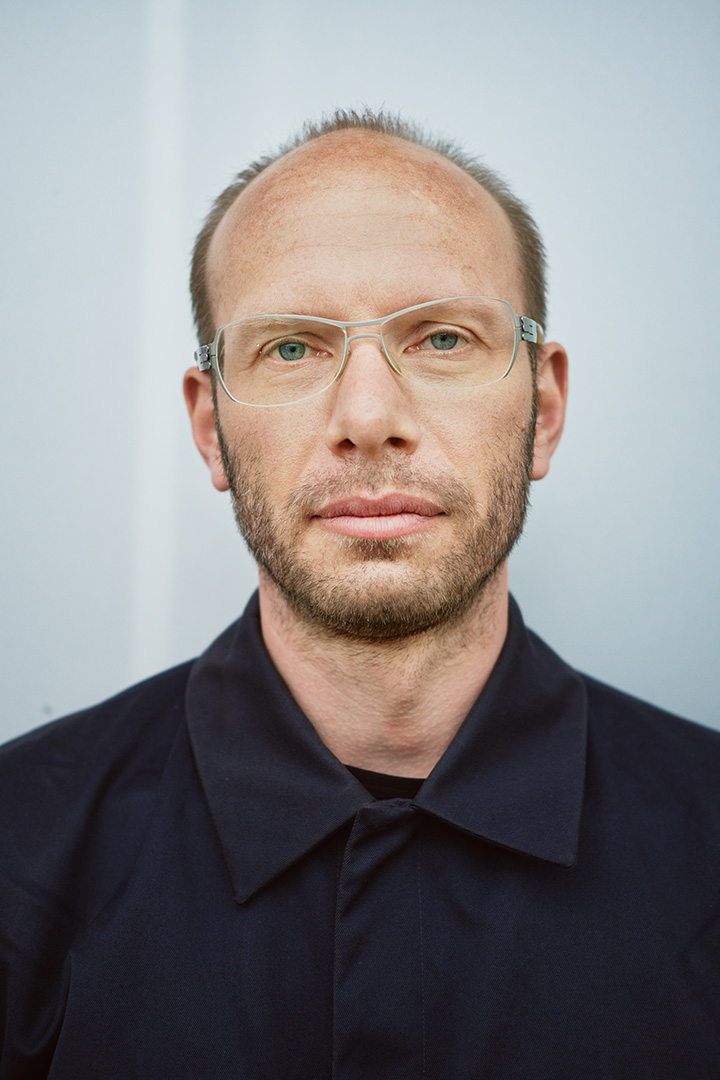 Photo: Kathrine Uldbæk Nielsen
Tao G. Vrhovec Sambolec è un artista e musicista sloveno che vive ad Amsterdam. Le sue opere comprendono installazioni interdisciplinari, interventi sonori e musica elettroacustica.
Si è diplomato in clarinetto al Trondheim Music Conservatory in Norvegia e in composizione al Royal Conservatory de L'Aia e ha completato una borsa di studio alla Bergen Academy of Arts and Design con il patrocinio del Norwegian Artistic Research Fellowship Programme.
I suoi lavori sono stati esposti in musei e festival di tutto il mondo tra cui il Museum of Modern Art e la Kapelica Gallery di Ljubljana, il Public Space With a Roof Gallery (PSWAR) di Amsterdam, l'Ars Electronica Festival di Linz, l'AV Festival di Newcastle Upon Tyne, lo State Museum of Contemporary Art di Thessaloniki, il Gwangju Museum of Art in Korea del Sud, il Research Pavilion di Venezia, il Forum neuer Musik di Colonia, il CMMAS di Morelia in Mexico e il Toonspur presso il MuseumsQuartier di Vienna.
Nel 2010 la sua opera Virtual Mirror – Rain è stata insignita della menzione d'onore per la categoria Hybrid Arts all'Ars Electronica di Linz.
[ taogvs.org ]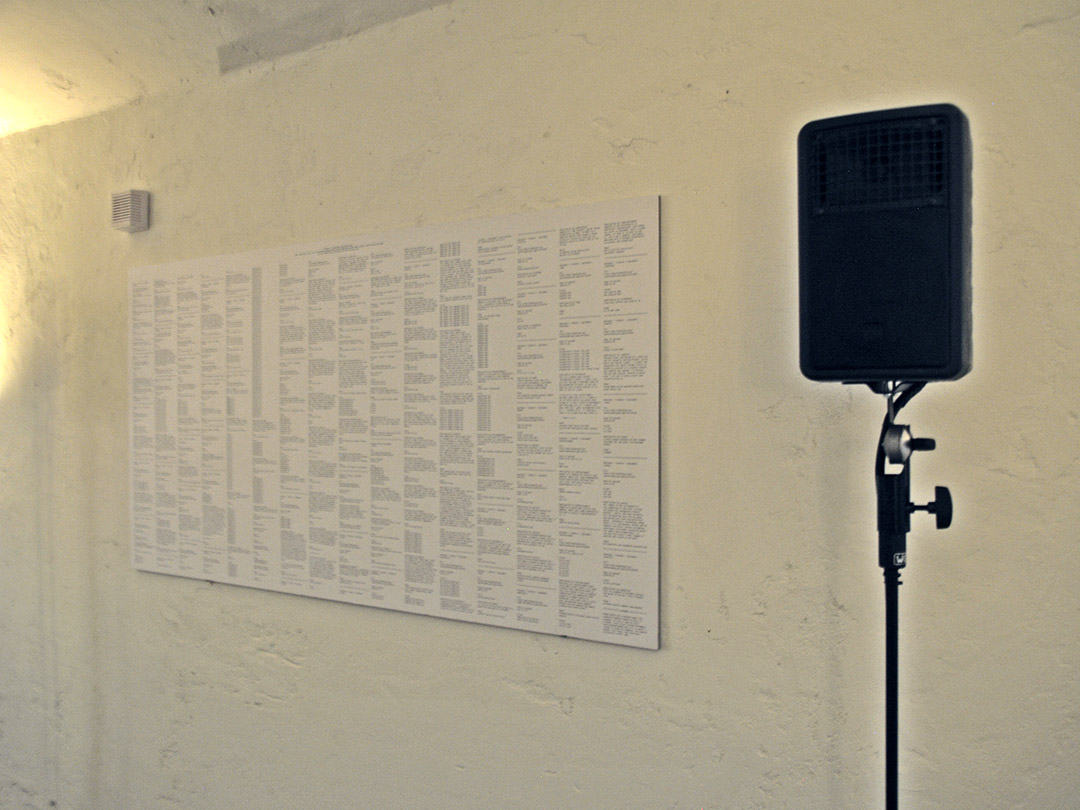 WHERE
Casa della Confraternita
way up to the castle
OPEN
June 16th – 24th
From Thursday to Sunday 3 – 7pm
INAUGURATION
Saturday June 16th at 11.45am
TAO G. VRHOVEC SAMBOLEC
Tuning in 8 channel sound installation
The sounds used in the installation consist of numerous recorded samples of different instrumentalists playing a single note "A" across octaves (the usual tuning reference) and single strokes on non-pitched percussion instruments. All the sounds are found on and downloaded from the website www.freesound.org without being processed in any way. Distributed over eight loudspeakers, the recordings are being played back as if the people playing the instruments are trying to tune. A poster with the list of all used sounds, their descriptions and their authors is exhibited as a part of the installation.
Even though the recordings of the tones were made by different people on different locations (sometimes years apart without being aware of each other) they share the similarity of their conception, the focused intention to produce, record and share a simple musical sound of a certain frequency. The connection between the random and non-performative sounds is thus established not because they occupy the same place and time, but by a corresponding gesture.
Commissioned by Gaudeamus Music Week 2011 – a festival for contemporary music, and originally installed in the foyer of a concert hall, the installation relates to the moment just before the concert when the musicians gather in a physical space and consciously coordinate the tuning of their instruments.
Tao G. Vrhovec Sambolec is artist and musician based in Amsterdam – NL.
His works encompass interdisciplinary and mixed media installations, sound interventions and electro acoustic music.
Born in 1972 (Ljubljana – Slovenia), he received BA – main subject clarinet – at Trondheim Music Conservatory (Norway), BA in music composition and MA at Interfaculty Image and Sound – ArtScience, both at The Royal Conservatory in The Hague – The Netherlands, where he also followed Sonology course.
In 2017 he completed Artistic Research Fellowship at the Bergen Academy of Arts and Design, under the auspice of the Norwegian Artistic Research Fellowship Programme (parallel programme to academic PhD).
His works were shown and performed in various museums, project spaces and festivals, amongst others in Kapelica Gallery -Ljubljana, Public Space With a Roof Gallery (PSWAR) – Amsterdam, Ars Electronica Festival – Linz – Austria, Museum of Modern Art – Ljubljana, AV Festival – Newcastle Upon Tyne, SKUC Gallery – Ljubljana, State Museum of Contemporary Art – Thessaloniki – Greece, Gwangju Museum of Art – Gwangju – South Korea, Reseach Pavilion – Venice – Italy, Madrid Abierto – Madrid, Musica a Metronom – Barcelona, Gaudeamus Music Week – Amsterdam, Forum neuer Musik  – Köln, festival of contemporary music Contemporanea 2004 – Udine, CMMAS – Morelia, Mexico, Moon Life Concept Store, Shanghai, Toonspur – MuseumsQuartier, Vienna …
He was commissioned pieces by Barton Workshop Ensemble (Amsterdam), Percussion Group The Hague and Slovenian Cinematheque.
In 1996 he formed together with Tomaz Grom electroacoustic improv duo TILT.
Since 2018 he is member of artistic committee of puntWG Gallery in Amsterdam and a member of artistic committee of DNK – Amsterdam, a series of experimental contemporary music and sound art concerts, events, lectures and exhibitions.
He is founder of international cycle of sound events, lectures and workshops Bitshift in Kapelica Gallery – Ljubljana, which started in 2001.
In 2008 and 2011 he got awarded Startstipendium from The Netherlands Fundation for Visual Arts, Design and Architecture – Mondriaan Fonds.
In 2010 his work Virtual Mirror – Rain got awarded Hybrid Arts Honorary Mention at Ars Electronica, Linz, Austria.
[ taogvs.org ]