- scroll down for english version -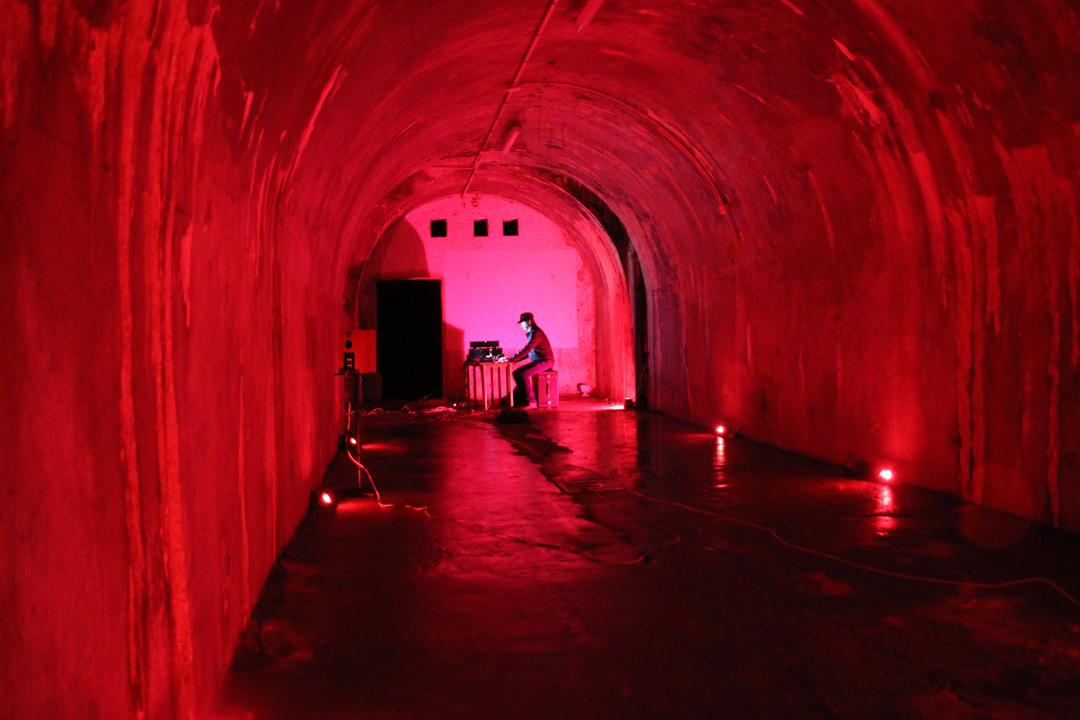 LUOGO E ORARI
Rifugio antiaereo di Piazza I Maggio
aperto dal giovedì alla domenica
dalle 15 alle 18
Inaugurazione
venerdì 3 giugno ore 12 – 16
Michael J. Schumacher
Room Piece Udine 2016 (Abigail Hobbs)
Installazione sonora per 7 altoparlanti
"…and the vague awareness of a needle bleeding into me…"
("…la vaga consapevolezza di un ago che mi perfora la carne…")
Una citazione tratta da un famoso show televisivo americano viene frammentata e dispersa nell'ambiente. La manipolazione dell'audio è pilotata da un computer che genera combinazioni e particelle di suono sempre diverse.
La particolarità acustica del tunnel ha ispirato quest'opera site-specific che è stata composta dall'autore nei primi giorni di giugno. I suoni tra le pareti del tunnel in alcuni punti mantengono la loro chiarezza anche da una certa distanza ma allo stesso tempo si fondono assieme creando un dedalo di riverberi. I muri spesso creano l'effetto di voci anche dove in realtà non ci sono.
L'allestimento luminoso dell'installazione è di Alessandra Zucchi
Michael J. Schumacher è un compositore, performer e artista del suono. Utilizza prevalentemente media elettronici e digitali e in particolare il computer per generare installazioni sonore di durate molto estese. Il rapporto tra acustica ed architettura è un elemento fondamentale nei suoi lavori, gli ambienti sonori che crea con l'utilizzo di vari altoparlanti sono ideati e progettati in relazione allo spazio che li ospita.
Schumacher è stato fondatore e direttore della Diapason Gallery, una galleria dedicata alla sound art che dal 2001 al 2011 ha esposto le opere di oltre 300 artisti tra cui le prime di David Behrman, Jacob Kirkegaard, Stephen Vitiello, Leif Inge e altri.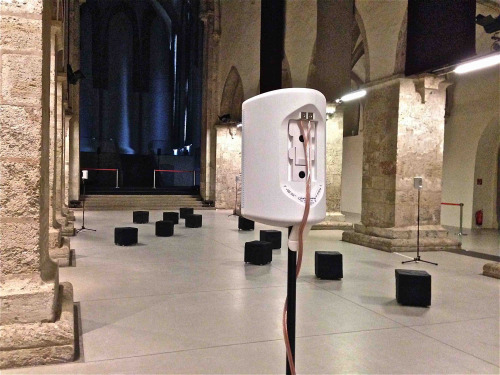 Michael J. Schumacher, sound installation in Krems, 2014
Michael J. Schumacher
Room Piece Udine 2016 (Abigail Hobbs)
7-channel sound installation
Rifugio antiaereo di Piazza I Maggio
(air-raid shelter)
open from Thursday to Sunday 3 – 6pm
Inauguration: Friday, June 3rd from 12am
A quotation, from a popular TV show, is fragmented and looped in 8 different voices. Loops are generated by algorithmic processes, so are continuously generating new combinations. The unique acoustics of the tunnel space inspired the approach; sounds retain their clarity, even from a distance, while at the same time melding together in a reverberant haze. The hard stone walls reflect the higher frequencies, creating the illusion of additional sound sources.
"…and the vague awareness of a needle bleeding into me…"
Michael J. Schumacher is a composer, performer and installation artist based in New York City. He works predominantly with electronic and digital media, specifically computer-generated sound environments that evolve continuously for long time periods. These environments are created using multiple speaker configurations that relate the sounds of the installation to the architecture of the exhibition space. Architectural and acoustical considerations thereby become basic structural elements. Schumacher was founder and director of Diapason, a gallery devoted to sound art. Between 2001 and 2011, it presented the work of over 300 sound and media artists, including premieres by David Behrman, Jacob Kirkegaard, Stephen Vitiello, Leif Inge and others.