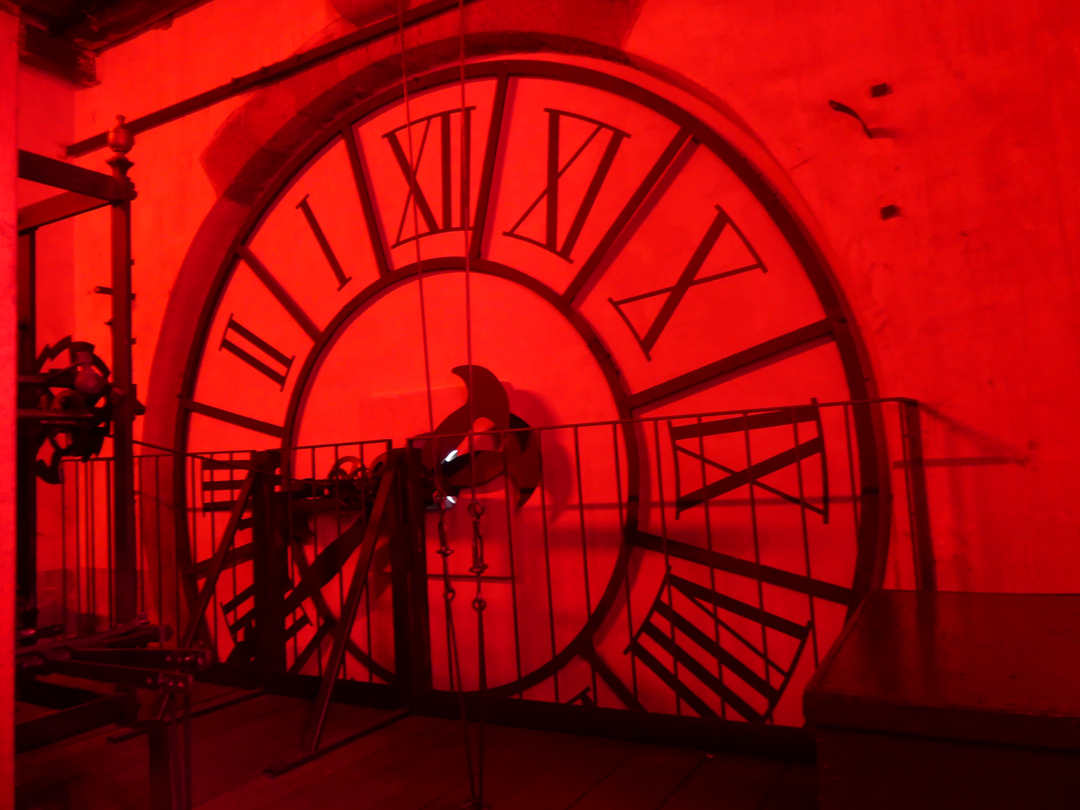 DOVE
Torre dell'orologio
Piazza Libertà
(ingresso dalla salita del castello)
ORARI DI APERTURA
da giovedì a domenica dalle 15 alle 19
ingresso solo con accompagnatore
per gruppi di 5 persone alla volta
Per i soci di Continuo associazione
aperto anche la mattina prenotando al numero 347 2543 623
INAUGURAZIONE
Sabato 3 giugno ore 10
Anna Friz
installazione sonora multicanale
Le torri con gli orologi hanno storicamente scandito il tempo delle attività degli artigiani e della vita sociale con i loro rintocchi.
Oggi il tempo è condiviso su scala globale con il Tempo Atomico Internazionale (TAI) un sistema orario standard ad alta precisione stabilito da una rete di orologi atomici situati in vari paesi e sincronizzato e trasmesso via satellite e via radio in tutto il mondo.
L'avvento del tempo atomico ha fatto si che oggi l'unità di misura di riferimento cronologico sia il secondo (calcolato sul numero di oscillazioni di un atomo) e non più il giorno o l'ora.
Nonostante questo le percezioni locali e personali del tempo continuano a sfuggire a tale regolarità, e anche i dispositivi digitali in rete a volte sbagliano sincronizzazione.
The Envelope of the Hour è una installazione sonora costruita modificando e manipolando i segnali radio a onde corte che trasmettono il Tempo atomico internazionale mescolati ai suoni meccanici e dei rintocchi di antichi orologi domestici.
Realizzato con il supporto dell'Arts Research Institute of University of California di Santa Cruz.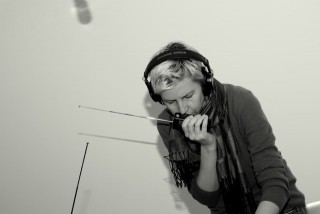 Anna Friz – foto di Sunčan Stone
La canadese Anna Friz è un'artista sonora e multimediale specializzata in sistemi di trasmissione radiofonica per installazioni, performance e trasmissioni broadcast. Dal 1988 ha creato e presentato i suoi lavori in più di 25 Paesi, nei quali la radio è spesso la fonte e il soggetto del lavoro.
Anna compone anche per il teatro, la danza, per film e performance. Ha un dottorato in Comunicazione e Cultura presso la York University di Toronto ed è docente di Musica per Film al Digital Media Department dell'University of California a Santa Cruz. È membro del collettivo artistico Skálar | Sound Art | Experimental Music con sede in Islanda, è da tempo artista affiliato di Wave Farm (precedentemente free103point9) ad Acra, New York e membro itinerante del collettivo di Toronto Public Studio.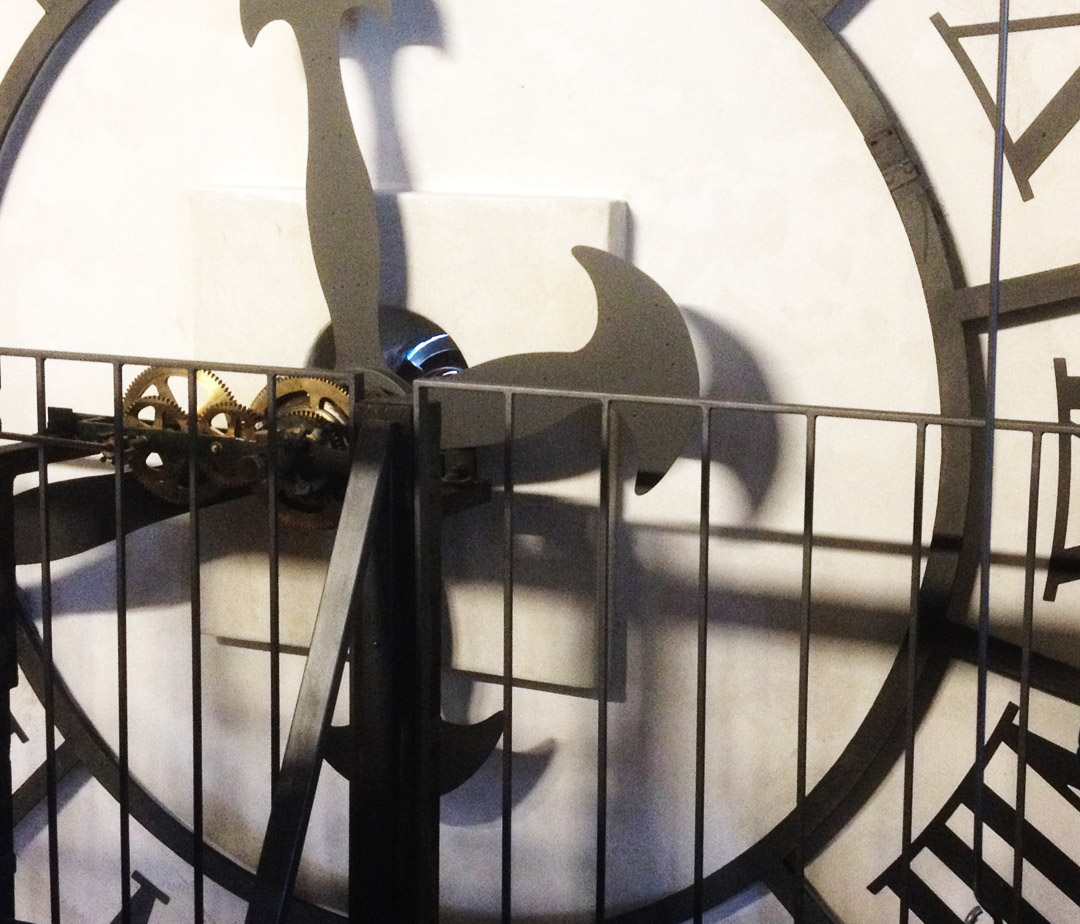 WHERE
old clock tower
Piazza Libertà
(entrance from the way up to the castle)
OPEN
From Thursday to Sunday 3 – 7pm
entrance only with the guide
max 5 persons at a time
Open on booking in the morning (members only)
by calling +39 347 2543 623
INAUGURATION
Saturday June 3rd at 10am
Anna Friz
THE ENVELOPE OF THE HOUR Multichannel sound installation
Bell towers have historically marked and measured social activity and the tempo of a day with their sonic presence in a town. Today time is determined globally under International Atomic Time, a coordinated time standard established by a network of atomic clocks operating in various countries; synchronized and transmitted by satellite and shortwave frequencies worldwide. The advent of atomic time means that the second, not the day, is now the fundamental temporal unit, determined by a vast number of very quick oscillations. Meanwhile, local and personal perceptions of time continue to elude such regularity, and even digitally networked devices may fail to synchronize.
The Envelope of the Hour is a multi-channel sound installation composed from manipulations of the radio broadcast of the atomic clock and of domestic striking clocks, exploring the sonic resonance, suspension, drift and decay of atomic and mechanical clock time. Created with support by the Arts Research Institute of University of California, Santa Cruz.
Anna Friz is a sound and media artist who specializes in multi-channel radio transmission systems for installation, performance, and broadcast. Since 1998 she has created and presented new audio art and radiophonic works in more than 25 countries, where radio is often the source, subject, and medium of the work. She also composes sound works and sonic installations for theatre, dance, film, and solo performance that reflect upon public media culture, political landscapes and infrastructure, and time perception.
Anna holds a Ph.D. in Communication and Culture from York University, Toronto and is currently Assistant Professor of Sound in the Film and Digital Media Department of University of California, Santa Cruz. She is a steering member of the artist collective Skálar | Sound Art | Experimental Music based in East Iceland, a long time affiliate artist of Wave Farm (formerly free103point9) in Acra, New York, and an itinerant member of the Toronto-based collective Public Studio.